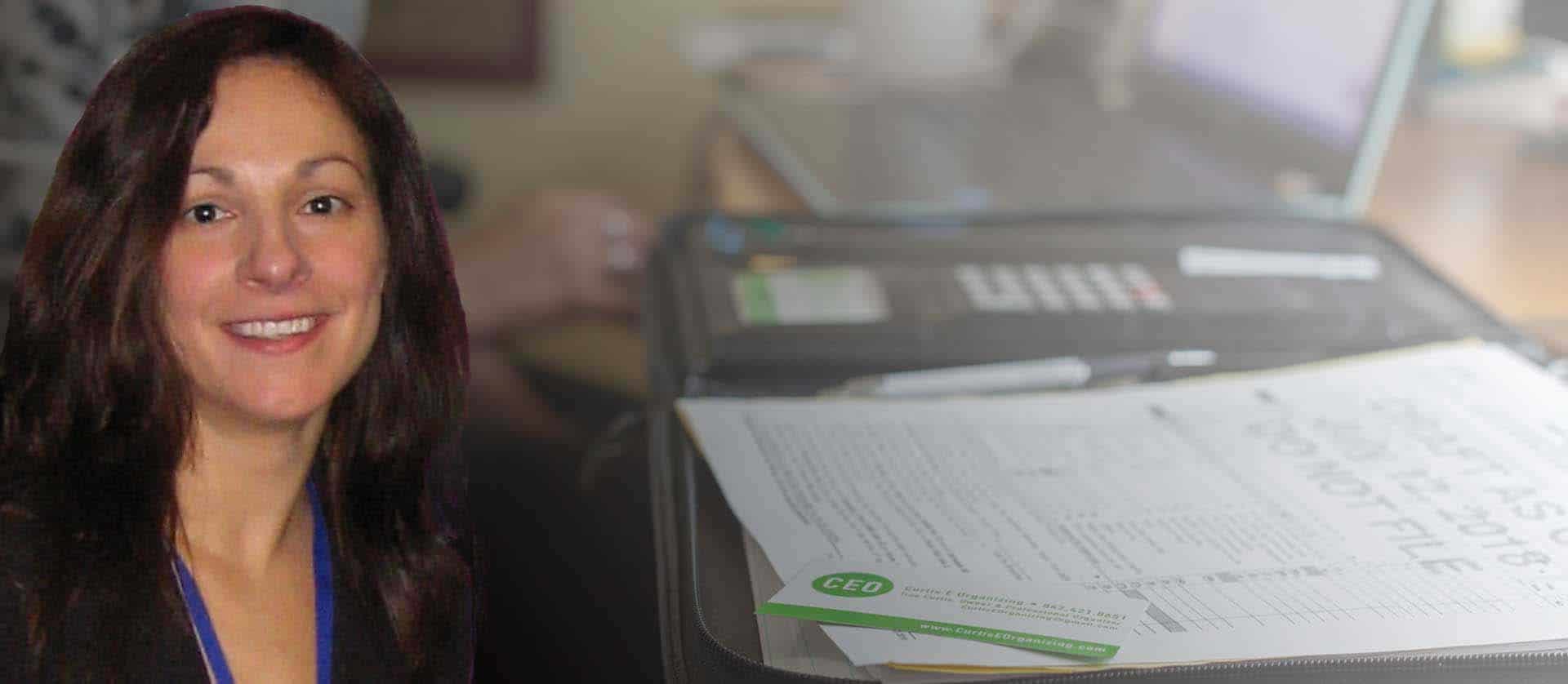 Professional Organizing Services
Established in 2010
Organizing in the Illinois Valley & Surrounding Communities Since 2016
OVER 30 Years of Experience
Tina Curtis is your primary problem solver for business, personal, and transitional life challenges. From your free one-hour consultation through your project's completion, Tina and Curtis E Organizing focuses on the whole picture of your unique challenge, helping you to prioritize, prepare, execute, and finalize all of the details & experience you need to make your project stress free and streamlined.
" Life is a series of transitions. How can I help YOU?

 "
– Tina Curtis
"Tina provided me with an overwhelming sense of relief that the task at hand was manageable. She kept the momentum going and in a short day and half the job was done, where I originally didn't even know where to start.Thank you so much for everything!
-Nikki Baer President Baer Marketing Products Company, DBA Imprintable Memories
"Tina Curtis has been a tremendous asset to me over the last few years organizing my home. She was very easy to work with and helped me develop goals and a plan of attack that was comfortable for me. ​Tina was incredibly helpful to me when preparing to sell our house! The project started as an overwhelming task and became manageable with Tina's valuable help, guidance and expert advice."
– Sally Yurs.
"Forty years in business and retirement just six months away….it was a lucky time to meet Tina Curtis and learn about the services provided by Curtis E Organizing. She helped us purge business and corporate records quickly and professionally. She cleaned out and organized the back rooms of a hundred year-old building that is dimly lit, damp, and peeling paint. She recycled, shredded and sorted efficiently for scanning. Tina is a professional and I wouldn't hesitate to recommend her. I'm pleased to say that we will enter retirement saving only the documents that are required and knowing that protected and personal information was disposed of responsibly. She maintained a positive attitude throughout, enabling my husband and I to work through a somewhat emotional task with an eye to our future"
– C. C. Bureau County, IL
"Over the past few years, I have witnessed several life changing / life improvement benefits that Tina from Cutis E Organizing has provided to her clientele. Tina has helped individuals and small business owners organize their homes and/or offices, which saves them time and money but the scope of what Curtis E Organizing does goes way beyond that. In "change of life" situations such as divorce, death, downsizing, moving etc… there is no one better equip to facilitate a smooth transition. Tina is also skilled in working with people that have chronic disorganization and hoarding disorders as well as other mental and physical disabilities. Tina Curtis is an excellent communicator that has your best interest at heart. My advice to you is to put aside your fears, take control and let Tina help you; you deserve it!"
– Karen Lee Kelly President and Problem Solver, ITEX in Chicagoland
"I have been working with Tina off and on for about 7 years going through different phases of my life, including moving from a home of almost 24 years. Tina is great to work with. She keeps you focused on the task at hand. She goes out of her way to fit into your schedule which is huge. I cant say enough about her care and work ethic."
– J.C. Glen Ellyn, IL
"I was referred to Tina to help me clean out my Mom's house of 47 years, in hopes of moving her to Florida. Tina was a God send!! She is knowledgeable , trustworthy and an extremely hard worker. Tina made an overwhelming task enjoyable. Tina, you're a true ROCK STAR!!"
– Tanya Tomanek St. Augustine, FL
Stay up to date with organizing tips, tricks and hacks